2016 Senior Living Winners
Querencia at Barton Creek
Gold Winner
Querencia at Barton Creek is a non-profit, continuing care retirement community for approximately 350 residents in Austin, Texas. Querencia's mission, "to inspire and nurture the successful aging of each and every resident," drives a culture of wellness throughout the organization.
Querencia partnered with Masterpiece Living, a multi-specialty group that assists organizations in establishing environments that promote successful aging. Masterpiece Living descends from the MacArthur Foundation's landmark 10-year study on aging which revealed how important lifestyle choices are in the aging process.
All new Querencia employees go through intensive training on the community's wellness culture and their role in promoting it to the residents. Each year, a wellness refresher program is held for residents and staff, with residents often leading the program.
---
Brookhaven at Lexington
Silver Winner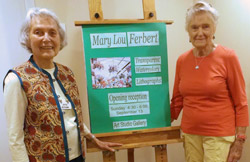 Brookhaven at Lexington is a not-for-profit continuing care retirement community located in the historic town of Lexington, Massachusetts. Brookhaven is comprised of three levels of care: skilled nursing, assisted care and independent living. It's accredited by The Commission on Accreditation of Rehabilitation Facilities (CARF) and is home to approximately 350 residents.
At Brookhaven, the principles of whole-person wellness serve as the foundation for all activities and services. Resident-driven programming and staff support from every department build on that foundation. The result is a vibrant, stimulating community of active-aging adults.
Unique to Brookhaven is the belief that its wellness programming should not be segregated by the different levels of care at the community. By blurring the lines between Independent Living and Assisted Care and combining the two populations in various wellness programs, Brookhaven stresses inclusiveness for all their residents.
---
Spanish Cove Retirement Village
Bronze Winner

Spanish Cove Retirement Village in Yukon, Oklahoma is a not-for-profit continuing care retirement community just outside Oklahoma City. The mission at Spanish Cove is to help residents "live longer better" by providing a variety of health services, including an on-site medical clinic and a wealth of wellness opportunities that help improve residents' health, vitality and independence.
The Wellness Center is the hub of all activities at Spanish Cove. Many programs promoting the seven dimensions of wellness are offered at the center. Resident response has been so positive, the community is planning to build a much larger wellness center.
Spanish Cove has extended its "live longer better" mission beyond their walls, welcoming older adults from surrounding areas to participate in their wellness programs.
---