2015 Senior Center Winners
The Palmer Center
Gold Winner
NuStep, Inc. has named The Palmer Center in Independence, MO the 2015 Gold Pinnacle Award winner in the Senior Center division.
The Palmer Center, operated by the City of Independence Parks and Recreation Department, is a nationally accredited senior center located just blocks from the city square in downtown Independence. Open six days a week, the center is a hub of activity for the 50+ population in the community. The center offers a full spectrum of whole-person wellness programs and supportive services to fulfill its mission to enhance the well-being of older adults in the community.
Members play a pivotal role in the center's success and vitality. Empowered to volunteer and take an active role in creating and teaching programs at the center, the members are making lasting and valuable contributions. Additionally, relationships with area agencies allow the center to enhance existing wellness programs, offer new ones and expand its reach beyond its walls and into the community.
---
Elder Service Plan
Silver Winner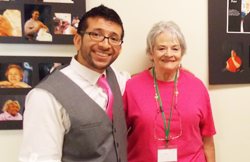 NuStep, Inc. has named Elder Service Plan of Harbor Health Services, Inc. in Mattapan, Mass. the 2015 Silver Pinnacle Award winner in the Senior Center division.
Elder Service Plan (ESP) is a PACE (Program All-Inclusive Care for the Elderly) program. PACE is a national model of care that serves adults age 55 and older with chronic care needs. With the PACE program as a platform, ESP provides comprehensive medical care and other services to over 400 participants who live in the community.
An interdisciplinary medical team collaborates with the transportation, rehab, nutrition, activities and social work departments to provide a multi-dimensional continuum of care for participants in an adult day care setting. The goal is to keep participants, who are eligible for skilled nursing facilities, living safely and independently in their community for as long as possible.
---
Enfield Senior Center
Bronze Winner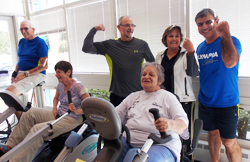 NuStep, Inc. has named Enfield Senior Center the 2015 Bronze Pinnacle Award winner in the Senior Center division.
Administered through the town of Enfield, a suburban community north of Hartford, the Enfield Senior Center serves as a focal point for aging services for the area's older adults. The mission of the Center, which has over 700 visitors a day, is to provide social, educational, and recreational opportunities, within the seven dimensions of wellness, that enrich the mind, body and spirit of older adults in an open and accepting atmosphere.
Since its origins in 2003, the nationally accredited Center has continued to grow and add services and programs to meet the needs of older adults in the community. In the 2013 – 2014 fiscal year, the Center offered nearly 750 programs. Volunteers – over 300 strong – play a critical role, sharing their time, skills and talents to help the Center fulfill its mission. In addition, by fostering relationships with area agencies and organizations, the Center has been able to expand their services to meet their members' diverse needs.
---