Natalie Buchoz Named as NuStep Brand Ambassador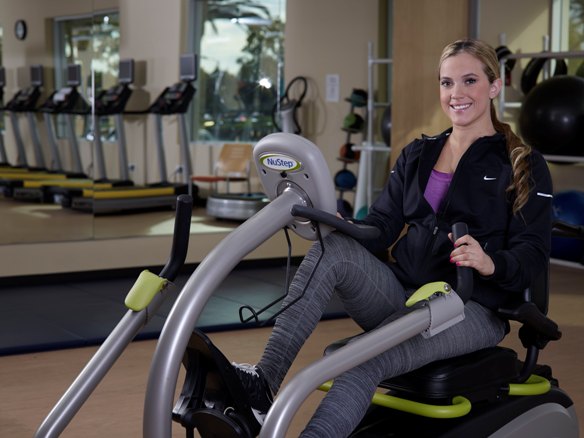 NuStep Names Natalie Buchoz as a Brand Ambassador and Inclusive Fitness Board Member
ANN ARBOR, MICH. – April 29, 2014 – NuStep, Inc., a designer and manufacturer of inclusive recumbent cross trainers, is pleased to announce that Natalie Buchoz, a student and athlete at the University of Southern California (USC), will serve as a NuStep Brand Ambassador and member of the company's Inclusive Fitness Board.
Buchoz, of Huntington Beach, Calif., suffered a spinal cord injury in a skiing accident in 2007. The 15-year-old high school athlete was paralyzed from the waist down and told she'd need 24-hour care for the rest of her life. Buchoz refused to accept that prognosis and within three months was undergoing intensive exercise-based therapy that included the NuStep.
Now a junior at USC studying public relations, Buchoz uses the NuStep daily to maintain her strength and fitness level.
"When I found NuStep, I got a piece of my independence back," Buchoz says. "I am able to use the NuStep independently and use my entire body. I look forward to the day when all gyms have NuSteps."
NuStep Vice President of Sales and Marketing, Steve Sarns said, "Natalie's strength and determination to rise above her injury and not let it define her life is truly inspiring. Her goal to advocate for inclusive fitness as a way to help others shows her character and we're so fortunate to have her join us."
About NuStep, Inc.
NuStep, Inc. designs, manufactures, and sells its line of inclusive recumbent cross trainers from Ann Arbor, Michigan. NuStep's T4r, T5 and T5XR models, along with a full line of accessories and adaptive equipment, empower users of virtually all ability and age levels to engage in exercise that promotes strength and independence and improves health outcomes. All three NuStep models have received the Arthritis Foundation's Ease-of-Use commendation. A global leader in its industry, NuStep is also a proud recipient of the INSPIRE Award for their significant contributions to the active-aging industry by the International Council on Active Aging (ICAA). For more information about NuStep, Inc. call 800-322-2209 or visit www.NuStep.com.