The RB8PRO Recumbent Bike is a new addition to the NuStep product line. Easy to access and easy to use, the RB8PRO delivers an effective lower body workout that is easy on the joints. Intuitive workout apps engage and motivate users, while real-time feedback tracks their performance.
Ideal for home use, fitness, rehabilitation, and senior living settings.
Inclusive and adaptive, the RB8PRO accommodates users up to 500 lbs.
1

Low step-through design

2

Integrated sensor technology

3

Low starting force with coast in reverse; 15 levels of resistance

4

Contact heart rate handles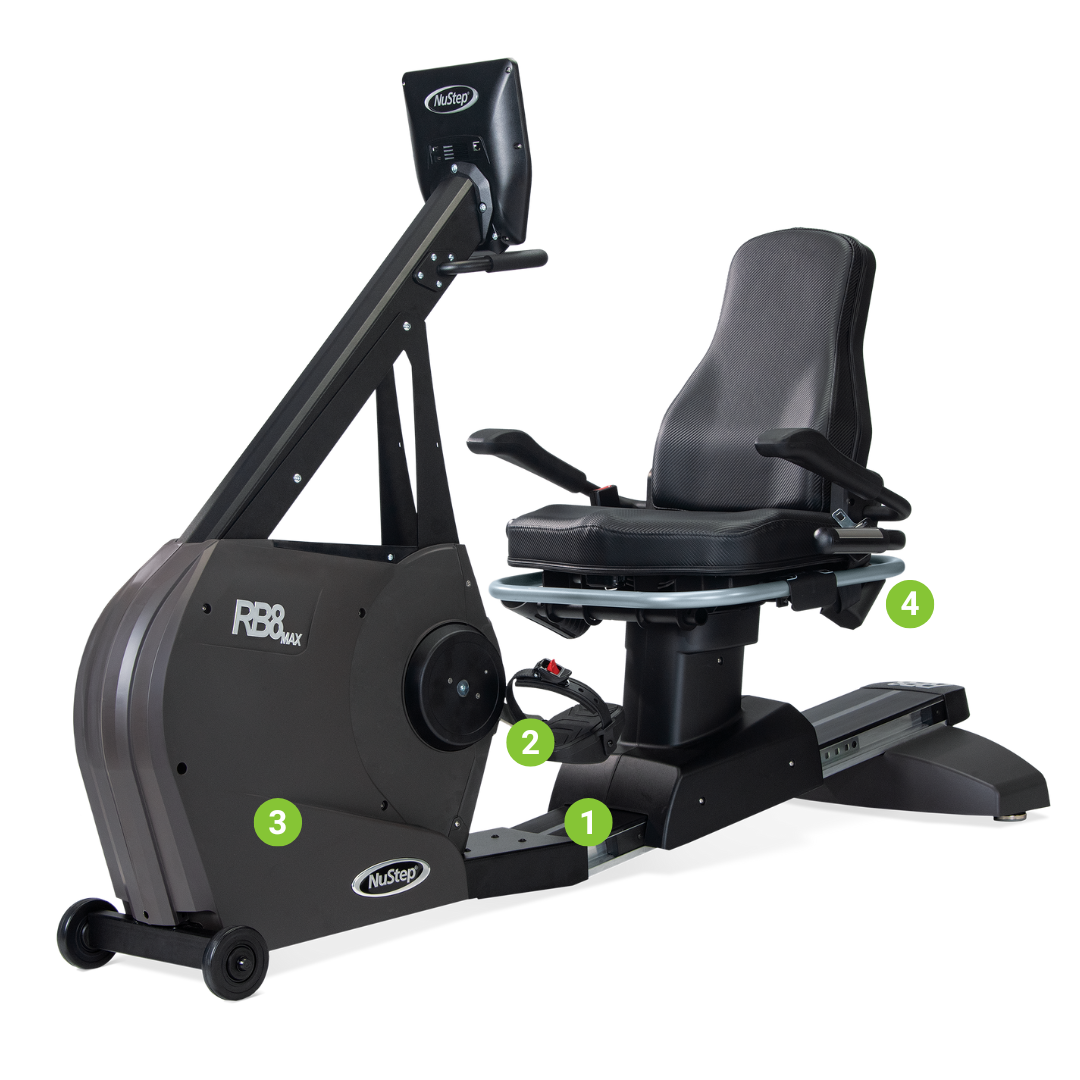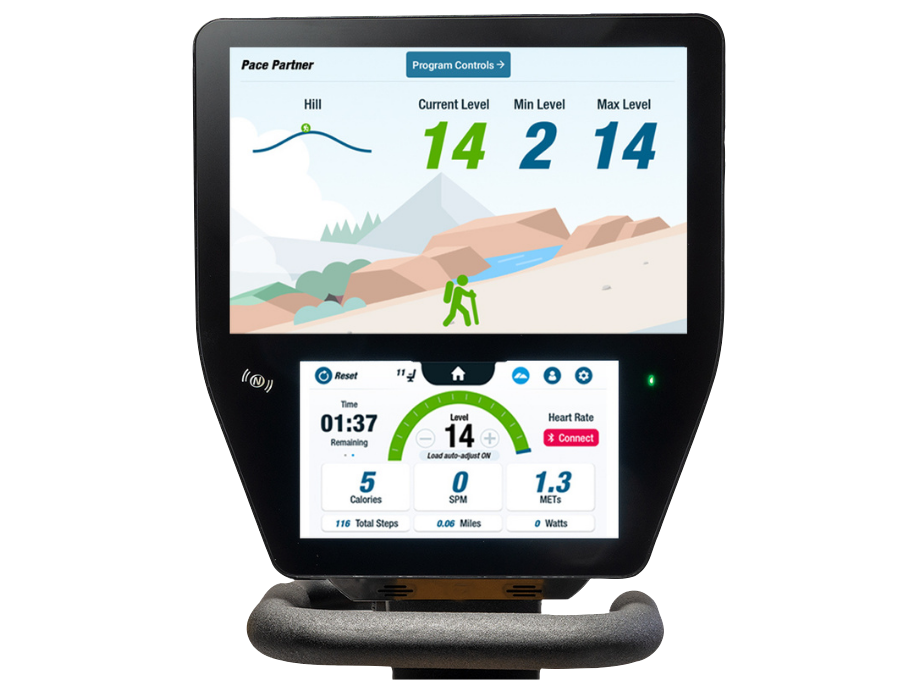 Engaging & Motivating Experience
Integrated sensor technology captures and displays power and symmetry data in real time. Dual-touchscreen console with HD display. Intuitive user interface with engaging workout programs and easy-to-track metrics. Programs include:
Quick Start
Get on and go without setting goals
Pace Partner
Stay on track with a steady pace
NuStep Charts
View statistics based on performance
Balanced Power
Measure power and identify imbalances
Trail Runner
Exercise in locations around the world
Maximum Comfort & Adjustability
The ergonomic seat featuring a custom recumbent design, provides a stable, supportive position for users while exercising.
500 lbs. user weight capacity
360-degree seat swivel (locks every 45 degrees)
Reclining seat (an additional 12 degrees)
Seat positions easy to adjust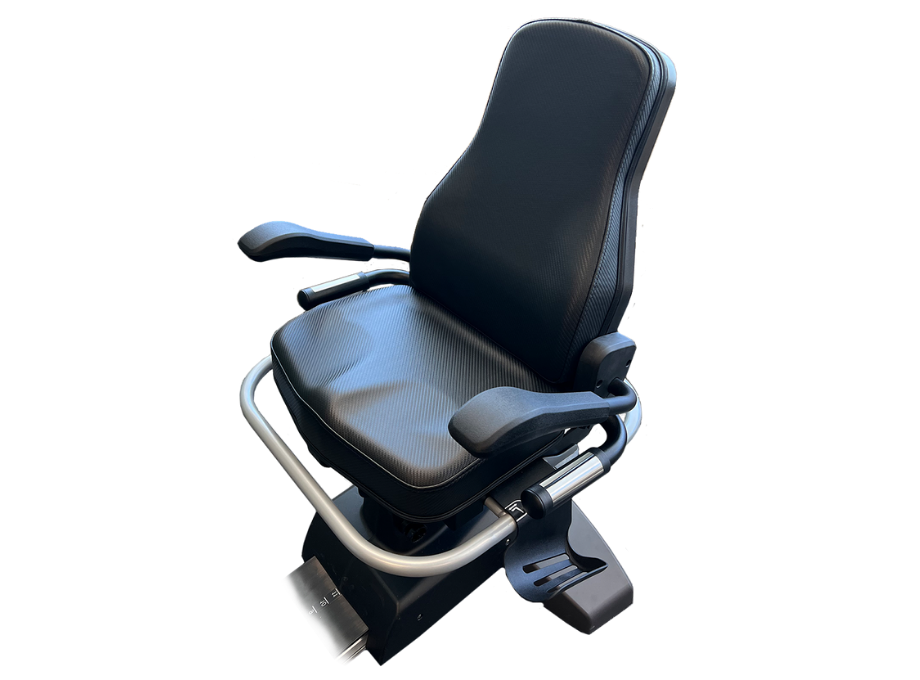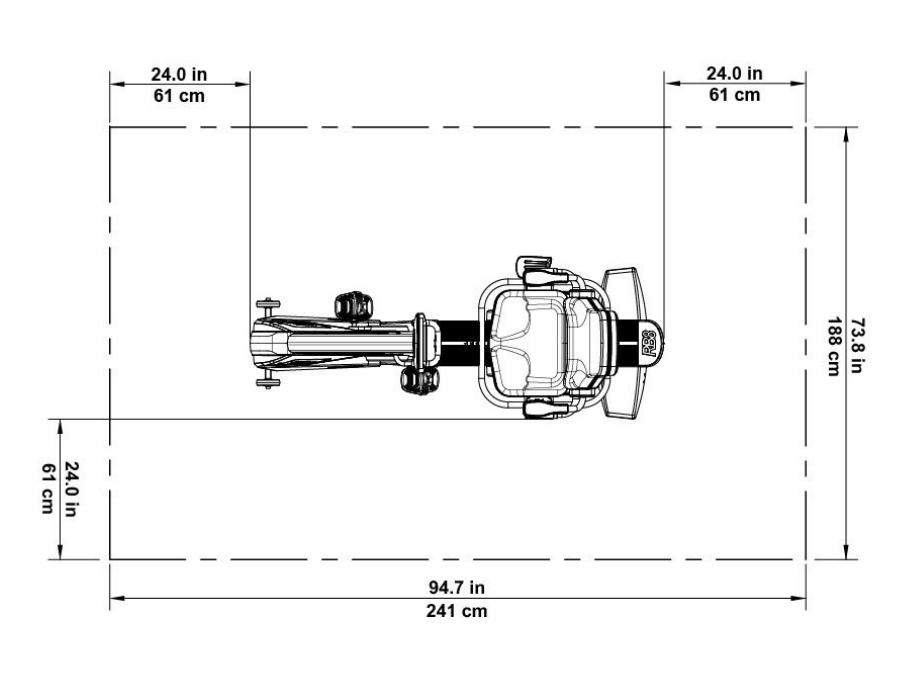 Machine Footprint:
70"L x 32"W (178 cm x 82 cm x 81 cm)
Unit Weight: 
250 lbs. (113 kg)
Standard seat width:
18" (46 cm)
Power: 
AC adapter with front and rear power jacks
Height:
Fits users from 4'6" – 6'7" (137–200 cm) 
Weight: 
Supports users between 75 lbs. – 500 lbs. (34–227 kg)
Age: 
Recommended for ages 13 and up.
Users outside this height, weight, and age range may not use this cross trainer.
What is full service delivery?
Full service delivery includes freight transportation to your address and placement inside your home. The delivery company will contact you prior to the delivery to schedule a date and time (4-hour window) for your delivery. The delivery personnel will place your NuStep in your chosen location within your home. They will also take the product packaging material away from your home.
Will the delivery personnel show me how to use the NuStep?
No, the delivery personnel do not show you how to use the NuStep. They are contracted for deliveries only.  Review all of our FAQs.
What is included in my warranty?
How do I clean my NuStep?
Please see our cleaning document for detailed instructions for all NuStep equipment.