NuStep, Inc. Raises Over $120,000 for the Alzheimer's Association's, The Longest Day®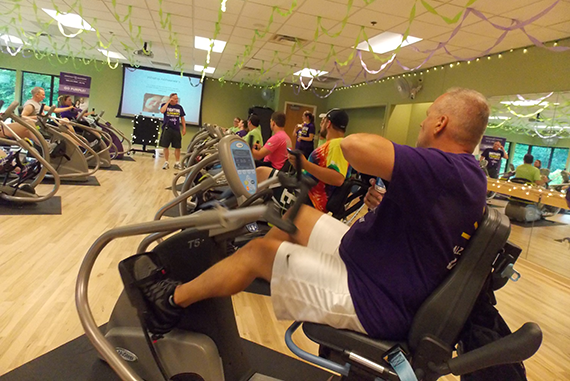 ANN ARBOR, MI – August 7, 2015 – NuStep, Inc., maker of inclusive exercise equipment and a global team partner for the Alzheimer's Association's The Longest Day®, announced today that its fundraising and awareness campaign, "NuStepping to End Alzheimer's," did its part by raising $121,289 for the Alzheimer's Association.
The Longest Day, which was created to recognize the 24/7 challenges faced by those living with Alzheimer's disease as well as their loved ones and caregivers, is a global fundraising event. Held annually on the summer solstice, the event begins at sunrise and ends at sunset. Participants fund raise and spend the 16 hours of daylight engaged in activities they love to honor someone facing the disease.
For NuStep, maker of the NuStep recumbent cross trainer, the activity of choice was NuStepping. The company invited senior living community and senior center customers to join its NuStepping to End Alzheimer's team and hold NuStepping relay events at their locations. NuStep challenged its teams to keep their NuSteps in continuous motion for the duration of their events, with many, including NuStep's flagship team in Ann Arbor, Mich., NuStepping from sunrise-to-sunset. Teams were also challenged to raise at least $1500 with NuStep awarding a NuStep recumbent cross trainer to the top three fundraising teams.
A total of 80 NuStepping teams across the U.S. joined the effort, helping to raise $121,289. Three senior living communities were the top fundraisers and they are:
"NuStep, Inc. has demonstrated a commitment to The Longest Day by honoring the strength, passion and endurance of those facing Alzheimer's," said Angela Geiger, chief strategy officer, Alzheimer's Association. "The Alzheimer's Association applauds NuStep and their customers across the country for their efforts to raise important funds and awareness."
NuStep Vice President of Sales and Marketing, Steve Sarns said, "The level of participation and support from our teams far exceeded our expectations. In our first year, we had a handful of teams and raised just over $20,000, so it has been exciting and gratifying to see how much NuStepping to End Alzheimer's has grown in one year."
Sarns, who is on the board of the Michigan Great Lakes Chapter of the Alzheimer's Association, noted that NuStep's initiative also sought to raise awareness about the connection between cardiovascular (aerobic) exercise and brain health.
"Research is showing that getting regular cardiovascular exercise can help improve brain health and reduce the risk of cognitive decline," Sarns said. "So the good news is that there are steps we can take every day – making sure we exercise and adopting other healthy lifestyle habits – that can have a positive impact on our brain health."
About NuStep, Inc.
NuStep, Inc. designs, manufactures, and sells its line of inclusive recumbent cross trainers from Ann Arbor, Michigan. NuStep's T4r, T5 and T5XR models, along with a full line of accessories and adaptive equipment, empower users of virtually all ability and age levels to engage in exercise that promotes strength and independence and improves health outcomes. All three NuStep models have received the Arthritis Foundation's Ease-of-Use commendation. A global leader in its industry, NuStep is also a proud recipient of the INSPIRE Award for their significant contributions to the active-aging industry by the International Council on Active Aging (ICAA). For more information about NuStep, Inc. call 800-322-2209 or visit www.NuStep.com.
About the Alzheimer's Association
The Alzheimer's Association is the leading voluntary health organization in Alzheimer's care, support and research. Our mission is to eliminate Alzheimer's disease through the advancement of research; to provide and enhance care and support for all affected; and to reduce the risk of dementia through the promotion of brain health. Our vision is a world without Alzheimer's. Visit alz.org or call 800-272-3900.
Contact:
Jane Benskey, Marketing Communications
NuStep, Inc.
jbenskey@nustep.com
800-322-2209 ext. 1867