NuStep Ambassador Shares Her Story at Hilarity for Charity in L.A.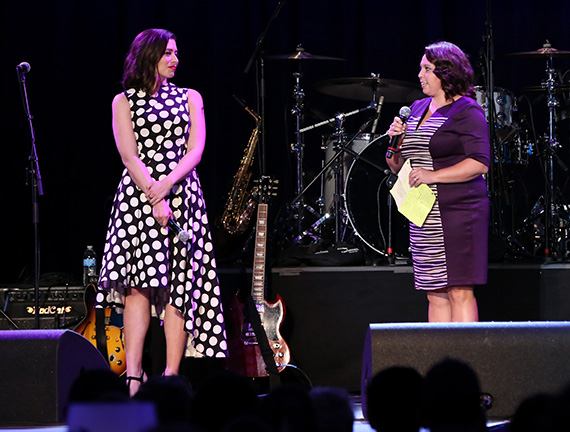 ANN ARBOR, MI – Oct. 19, 2015 – In what may be a once in a lifetime experience, Nikki Dodson of Adrian, Mich., accepted a personal invitation from actor Seth Rogen and his wife Lauren Miller-Rogen to attend their fourth annual Hilarity for Charity variety show on October 17 in Los Angeles and share her story about the impact her husband, Ken's, early onset Alzheimer's disease has had on her family.
While the sold-out audience at the Hollywood Palladium was there for a night of laughs and entertainment, Dodson's story served as a poignant reminder of the evening's true purpose, to raise money for Alzheimer's support and research.
Dodson, who wanted to be a preschool teacher, told the crowd, "God had a different choice for me – to help my husband and to help Lauren and Seth," in their efforts to raise awareness about the impact Alzheimer's can have on families.
The Dodson's are featured in a documentary about families living with Alzheimer's that was produced by Lauren Miller-Rogen and began filming last year. The Rogens, who co-founded Hilarity for Charity, hosted this year's HFC event which raised over $2 million.
Dodson, a mother of three, is a very active supporter of the Alzheimer's Association and has made it her mission to educate people about early onset Alzheimer's. It was through the Alzheimer's Association that she learned about NuStep, Inc., an exercise equipment manufacturer based in Ann Arbor. NuStep is a Global Team Partner of the Alzheimer's Association's The Longest Day.
Steve Sarns, vice president of sales and marketing at NuStep, asked Dodson to team up with NuStep and become an ambassador to help share the message about how cardiovascular exercise can lessen some of the symptoms associated with Alzheimer's. She appeared in a video produced by NuStep last fall to promote NuStepping to end Alzheimer's for The Longest Day which raised over $120,000.
Sarns, who is on the board of directors of the Michigan Great Lakes Alzheimer's Association, attended the Hilarity for Charity as a show of support for Nikki and Ken Dodson. He said, "I'm thrilled to be here with Nikki and her family. They have shown amazing strength in dealing with Ken's illness."
Joining Sarns was Carrie Richardson, another face of early onset Alzheimer's and Jan Olson of Paradise Valley Estates, a senior living community in Fairfield, Calif. that held a NuStep event in June to raise $27,000 for the Alzheimer's Association.
About NuStep, Inc.
NuStep, Inc. designs, manufactures, and sells its line of inclusive recumbent cross trainers from Ann Arbor, Michigan. NuStep products, accessories and adaptive equipment empower users of virtually all ability and age levels to engage in exercise that promotes strength and independence and improves health outcomes. All NuSteps have received the Arthritis Foundation's Ease-of-Use commendation. A global leader in its industry, NuStep is also a proud recipient of the INSPIRE Award for its significant contributions to the active-aging industry by the International Council on Active Aging (ICAA). For more information about NuStep, Inc. call 800-322-2209 or visit www.NuStep.com.
Contact:
Jane Benskey, Marketing Communications
NuStep, Inc.
jbenskey@nustep.com
800-322-2209 ext. 1867