NuStep, Inc. Holds All Day Relay Event to Benefit Alzheimer's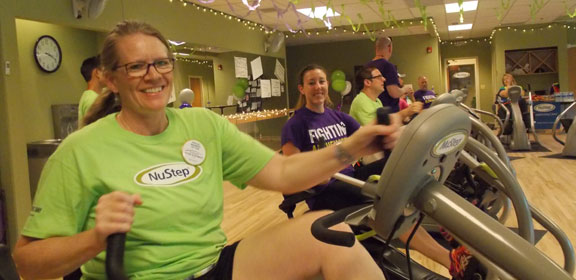 ANN ARBOR, MI – April 19, 2016 – NuStep, Inc., maker of recumbent cross trainer fitness equipment, is proud to participate in The Longest Day – a day-long event on June 20th to raise awareness and funds for the care, support and research efforts of the Alzheimer's Association.
As a manufacturer of exercise equipment, NuStep has long promoted the life transforming benefits of cardiovascular exercise. In recent years, as research emerged about the strong connection between cardiovascular exercise and brain fitness, NuStep also began focusing on brain fitness, especially as it relates to reducing the risk of cognitive decline and dementia.
In 2014, NuStep launched its nationwide initiative, NuStepping to End Alzheimer's, as a vehicle to both raise awareness about brain fitness and support The Longest Day. NuStep also teamed up with Total Brain Health, a provider of social-based brain training, to develop educational content on the science of brain fitness.
NuStep Vice President Steve Sarns, who conceived of the NuStepping initiative, says "Research is showing that healthy lifestyle habits can help improve our brain health and potentially stave off cognitive decline." He adds, "The message we're sharing is that, in addition to getting regular cardio exercise, there are many other things we can do every day to help keep our brains fit."
With a goal to raise $500,000 for The Longest Day, NuStep has invited its senior living customers across the U.S. to join its NuStepping to End Alzheimer's team. To date, 106 teams will hold NuStepping relay events at their locations on June 20th. The top three fundraising teams win a NuStep recumbent cross trainer.
Closer to home, NuStep is holding a sunrise-to-sunset NuStepping event at their headquarters on June 20th. Beginning at 5:59 a.m. and ending at 9:15 p.m., a relay team comprised of NuStep employees, area businesses and community members will keep a special edition NuStep recumbent cross trainer in constant motion.
About NuStep, Inc.
NuStep is the creator of inclusive recumbent cross trainers. The company was established with the goal of transforming lives by encouraging people of virtually all ages and all fitness levels, including those rehabilitating from an injury or illness, to TAKE THAT STEP, by getting the exercise they need to lead healthier, happier lives. Privately held and family owned, NuStep has been designing and manufacturing its products in Ann Arbor, Mich. since 1995. For more information, CALL 800.322.2209 or VISIT NuStep.com.
Contact:
Jane Benskey
NuStep, Inc.
jbenskey@nustep.com
800.322.2209 ext. 1867