NuStep Wins Governor's Fitness Award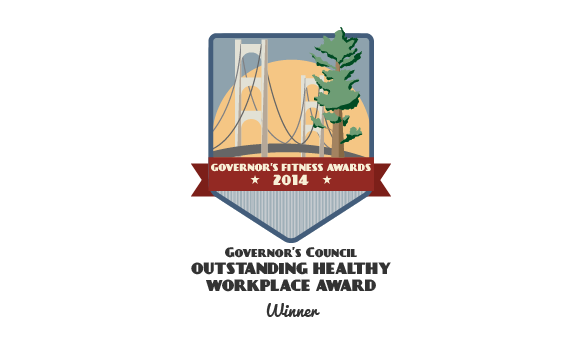 ANN ARBOR, MICH. – April 24, 2014 – NuStep, Inc., a designer and manufacturer of recumbent cross trainers, is pleased to announce it has won the 2014 Governor's Fitness Award for having an Outstanding Healthy Workplace.
The annual award, hosted by the Michigan Fitness Foundation and the Governor's Council on Physical Fitness, Health and Sports, recognizes organizations that demonstrate an outstanding commitment to the health of their employees through creative worksite wellness programs.
NuStep was recognized for its comprehensive and innovative employee wellness initiatives which include group exercise classes, free fitness assessments, smoking cessation programs, a healthy lunch program, Weight Watchers, Wellness Dollars and more.
NuStep Chief Financial Officer, Jennifer Brant said, "Wellness in the workplace means so much to us at NuStep. It goes beyond providing health education and a convenient place to exercise. Wellness at NuStep is practicing what we preach, taking pride in our products and being engaged in what we do. It is not just a program or employee benefit, it is who we are."
About NuStep, Inc.
NuStep, Inc. designs, manufactures, and sells its line of inclusive recumbent cross trainers from Ann Arbor, Michigan. NuStep's T4r, T5 and T5XR models, along with a full line of accessories and adaptive equipment, empower users of virtually all ability and age levels to engage in exercise that promotes strength and independence and improves health outcomes. All three NuStep models have received the Arthritis Foundation's Ease-of-Use commendation. A global leader in its industry, NuStep is also a proud recipient of the INSPIRE Award for their significant contributions to the active-aging industry by the International Council on Active Aging (ICAA). For more information about NuStep, Inc. call 800-322-2209 or visit www.NuStep.com.