NuStep, LLC Announces Retirement of Founder and CEO Dick Sarns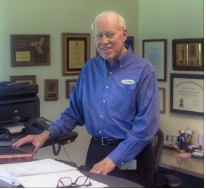 Eric Sklar Appointed as New CEO
NuStep, LLC, a leading global provider of recumbent cross trainers used in healthcare, senior living and fitness settings, today announced the retirement of founder and chief executive officer, Dick Sarns, and the appointment of his successor, Eric Sklar.
Alejandro Capetillo, a managing director with Main Street Capital Corporation and a member of the NuStep, LLC Board of Managers said, "Dick has been the driving force of NuStep since founding the company with his wife, Norma, in 1987. His vision to create safe, effective exercise equipment for cardiac rehabilitation led to the development of the NuStep recumbent cross trainer — the first product of its kind when it was launched in 1993.
"Dick's commitment to product quality and customer satisfaction has been instrumental in the company's long-term success and its reputation for excellence in the industry. On behalf of the NuStep Board of Managers, I want to thank Dick for his exceptional leadership and outstanding contributions," Mr. Capetillo said. Mr. Sarns will continue to serve on the company's Board of Managers.
Mr. Sklar, who joined NuStep in June, previously served as president and CEO of A&E Medical Corporation, a global surgical implant company headquartered in Farmingdale, NJ. He has also held senior executive positions at other medical product companies including Gelman Sciences, Pall Corporation and Terumo Cardiovascular.
"Eric is a seasoned leader in the medical products industry with an extensive background in engineering, new product development and sales and marketing," Mr. Sarns said. "He has the vision and energy to move our company forward and create future growth opportunities."
Mr. Sklar said, "I am delighted to join the NuStep team and honored to succeed Dick as NuStep's CEO. Throughout his distinguished career, which included pioneering work in the medical device arena and the development of the inclusive recumbent cross trainer, Dick has been driven by a mission to transform as many lives as possible. He has been successful doing things the right way, and with great integrity.
"Even more than what he has accomplished," continued Mr. Sklar, "I respect Dick for the genuine care he shows his family, his employees and his community. It is an honor to continue Dick's legacy of innovation — inspiring people around the world to take that step toward a healthier, more active lifestyle."