NuStep Sponsors Educational Session at IHRSA 2016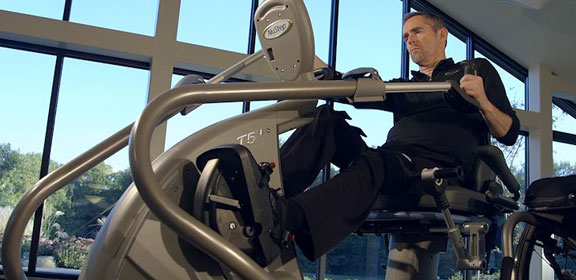 ANN ARBOR, MI – March 17, 2016 – NuStep, Inc., maker of the recumbent cross trainer and longtime supporter of inclusive fitness, is proud to sponsor the educational session, "Increasing Your Membership Through Inclusive Fitness," at the IHRSA International Convention & Trade Show to be held March 21 – 24, 2016 in Orlando, Fla.
The session, which is Monday, March 21 at 1:30 p.m. in Room S330-C at the Orange County Convention Center, will explore how providing an inclusive environment in fitness settings can have a positive impact on club memberships.
Session presenters, Amy Rauworth and Tom Hoatlin, have extensive experience working at organizations that advocate for people with disabilities and are highly regarded subject matter experts on inclusive fitness.
Rauworth is director of Policy and Public Affairs for the Lakeshore Foundation and associate director of the National Center on Health, Physical Activity and Disability (NCHPAD). A registered clinical exercise physiologist, Rauworth conducts training on inclusive fitness for the NCHPAD and specializes in accessible fitness center design.
Hoatlin is Midwest regional coordinator for the Peer & Family Support Program at the Christopher and Dana Reeve Foundation. He is a former vice president and director of development at the Ann Arbor Center for Independent Living where he worked for over 17 years. Hoatlin, who was paralyzed after sustaining a spinal cord injury, also serves on the NuStep Inclusive Fitness Advisory Board.
NuStep Vice President Steve Sarns, who established the company's advisory board, says, "It's exciting to see the growing commitment to inclusive fitness in the fitness industry." He adds, "Clubs and centers that promote inclusion not only support the exercise needs of a wider range of users, they also open the door to membership growth."
NuStep is also an exhibitor at IHRSA 2016. Visit the NuStep team at Booth #1101.
About NuStep, Inc.
NuStep is the creator of the world's most innovative and inclusive recumbent cross trainers. The company was established with the goal of transforming lives by encouraging people of virtually all ages and all fitness levels, including those rehabilitating from an injury or illness, to TAKE THAT STEP, by getting the exercise they need to lead healthier, happier lives. Privately held and family owned, NuStep has been designing and manufacturing its products in Ann Arbor, Mich. since 1995. For more information, CALL 800.322.2209 or VISIT NuStep.com.
Contact:
Jane Benskey
NuStep, Inc.
jbenskey@nustep.com
800.322.2209 ext. 1867