NuStepping Teams Raise Over $220,000 for The Longest Day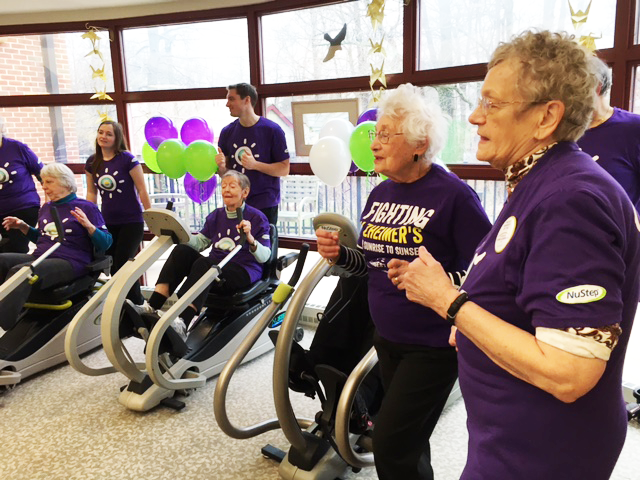 Senior Communities Across U.S. Hold NuStepping Relay Events to Benefit Alzheimer's Association
ANN ARBOR, MICH. —September 13, 2016 — On the first day of summer, 153 NuStepping to End Alzheimer's teams held relay events with two goals in mind: to support the Alzheimer's Association fundraising event, The Longest Day® and to build awareness about the growing evidence that indicates people can reduce their risk of cognitive decline by adopting a series of key lifestyle habits, including exercise.
NuStep, Inc. is proud to report that its teams, comprised mainly of senior living communities, helped raise $221,855 for The Longest Day.
As a manufacturer of exercise equipment used in healthcare, fitness and senior living settings, NuStep has long promoted the life-transforming benefits of cardiovascular exercise. In recent years, as research emerged about the strong connection between cardiovascular exercise and brain fitness, NuStep also began focusing on brain health.
In 2014, NuStep launched its nationwide initiative and invited customers to join its NuStepping to End Alzheimer's team and help support the global fundraising event held each year on the summer solstice.
NuStep donated a NuStep recumbent cross trainer to the top three fundraising teams. The top fundraisers­­­­ – all senior living communities – are:
NuStep Vice President of Sales and Marketing, Steve Sarns said, "We're grateful for the generous support of our NuStepping teams. Their enthusiastic participation fueled the success of this year's event and will play a large role as we work to keep the momentum going."
"The Alzheimer's Association appreciates the NuStep, Inc. leadership and staff for supporting The Longest Day. Their efforts will bring both much needed awareness and funds to fuel the mission of the Alzheimer's Association," said Donna McCullough, chief development officer, Alzheimer's Association. "The funds raised will bolster our efforts to support families facing Alzheimer's disease and advance much needed research that will one day change the future of millions."
About NuStep, LLC.
NuStep is the creator of inclusive recumbent cross trainers. The company was established with the goal of transforming lives by encouraging people of virtually all ages, fitness levels and functional abilities, including those who are disabled, rehabilitating from an injury or living with a chronic illness, to TAKE THAT STEP, by getting the exercise they need to lead healthier, happier lives. Privately held and family owned, NuStep has been designing and manufacturing its products in Ann Arbor, Mich. since 1995. For more information, CALL 800.322.2209 or VISIT NUSTEP.COM.
About the Alzheimer's Association
The Alzheimer's Association is the leading voluntary health organization in Alzheimer's care, support and research. Its mission is to eliminate Alzheimer's disease through the advancement of research; to provide and enhance care and support for all affected; and to reduce the risk of dementia through the promotion of brain health. The Longest Day is a team event to raise funds and awareness for the Alzheimer's Association. Held annually on the summer solstice, the duration of the sunrise-to-sunset event symbolizes the challenging journey of those living with the disease and their caregivers. Visit www.alz.org or call 800.272.3900.
# # #
Contact:
Jane Benskey
NuStep, Inc.
734-418-1867