O'Neal & SunShine Join Inclusive Fitness Board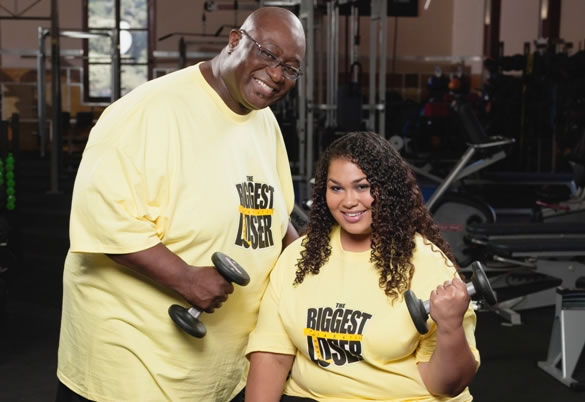 Former Biggest Losers, O'Neal and SunShine Hampton, Join NuStep as Brand Ambassadors and Inclusive Fitness Board Members
ANN ARBOR, MICH. – April 29, 2014 – NuStep, Inc., a designer and manufacturer of inclusive recumbent cross trainers, is pleased to announce that O'Neal and SunShine Hampton, past contestants on NBC's "The Biggest Loser," will serve as NuStep Brand Ambassadors and Inclusive Fitness Board members.
O'Neal and his daughter SunShine, who competed on Season 9 of "The Biggest Loser," will share their experiences with health issues and weight loss as well working out in fitness centers in their roles on the Inclusive Fitness Board.
For O'Neal, who once weighed over 380 pounds and had two bad knees, working out on traditional exercise equipment was virtually impossible. The NuStep's low-impact, smooth stepping motion made exercise and a 159 pound weight loss possible. Following his weight loss, O'Neal had a double-knee replacement. He used the NuStep during his recovery and continues to use it regularly.
In their role as NuStep Brand Ambassadors, O'Neal and SunShine will connect with fitness centers about inclusive fitness and work with NuStep to grow the company's presence in the fitness market.
NuStep Vice President of Sales and Marketing, Steve Sarns said, "O'Neal and SunShine embody the spirit of NuStep's mission of transforming lives. Their commitment to their health is rivaled only by their desire to help other people transform their lives through exercise."
About NuStep, Inc.
NuStep, Inc. designs, manufactures, and sells its line of inclusive recumbent cross trainers from Ann Arbor, Michigan. NuStep's T4r, T5 and T5XR models, along with a full line of accessories and adaptive equipment, empower users of virtually all ability and age levels to engage in exercise that promotes strength and independence and improves health outcomes. All three NuStep models have received the Arthritis Foundation's Ease-of-Use commendation. A global leader in its industry, NuStep is also a proud recipient of the INSPIRE Award for their significant contributions to the active-aging industry by the International Council on Active Aging (ICAA). For more information about NuStep, Inc. call 800-322-2209 or visit www.NuStep.com.