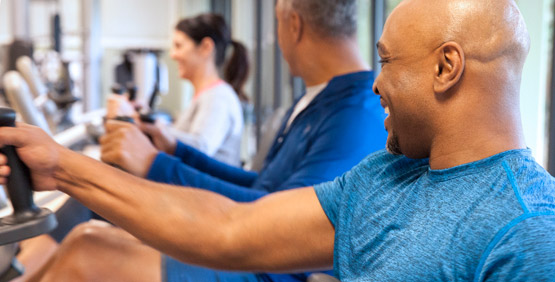 IMPROVE YOUR CLUB'S BOTTOM LINE
As a fitness center owner, your mission is two-fold:
Helping members achieve their fitness goals
Attracting and retaining members
Investing in quality fitness equipment that helps meet the needs of a wide range of your members plays a big role in determining your success on both fronts. Your bottom line depends on it.
Adding NuStep recumbent cross trainers to your fitness center is an investment that can offer dividends to you and your members.
The inclusive NuStep features a universal design that makes a full-body cardio and strength workout possible for virtually all users, including:
Elite athletes looking for a high intensity workout
Older adults seeking optimal health as they age
Those battling obesity
Those transitioning from physical therapy
FROM rehab TO FITNESS
Our cross trainers are widely used in hospital and rehab settings because they're versatile enough to take a patient through each phase of rehab and beyond. That's why NuStep's are a top choice among physical therapy and rehab professionals.
Given the current limitations on PT sessions, physical therapists regularly refer patients to fitness centers with our equipment so they can continue their progress post rehab.
Boost referrals to your fitness center with NuStep cross trainers and watch your membership grow.
GUARANTEED DURABILITY
NuStep cross trainers are durable, professional-grade and able to withstand years of regular, demanding use. Each NuStep cross trainer is covered by a 10-year frame, 5-year parts and 1-year labor limited warranty.*