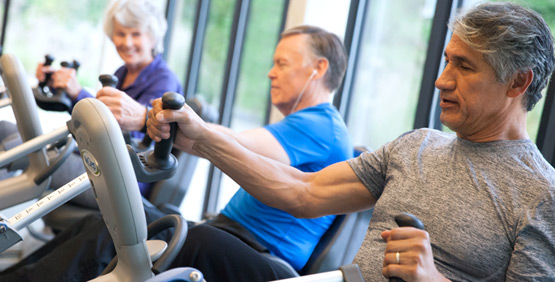 Senior Centers
Senior centers play an instrumental role in helping older adults remain independent and living in their homes for as long as possible. Of the many programs and services senior centers offer, health and wellness programming has moved to the forefront in supporting successful aging. To that end, they emphasize functional fitness because it directly relates to one's ability to remain independent and age in place.
Because of the wide range of ages, fitness levels and functional abilities of members, senior centers are especially mindful of providing exercise equipment that is versatile enough to accommodate as many members as possible. NuStep recumbent cross trainers are a top choice because they provide a low impact, effective total body workout that can benefit most members.
The low inertia start-up, easily controlled step length and multiple resistance level gives users the confidence to exercise independently. The upper and lower body workout helps build strength, improve flexibility and increase functional fitness.