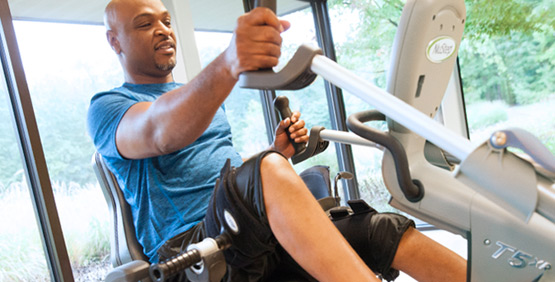 Accessible EXERCISE EQUIPMENT FOR MEDICAL FITNESS
Medically integrated health and fitness centers across the U.S. have embraced the NuStep recumbent cross trainer as a valuable tool in providing a continuum of care for their members.
The NuStep's inclusive design, ergonomic features and low impact workout benefits members across a spectrum of ages, fitness levels and functional abilities.
Those with limited mobility or significant upper or lower body weakness can still achieve an effective workout on the NuStep with our adaptive equipment.
BENEFITS OF NUSTEP IN MEDICAL FITNESS CENTERS
Because NuStep cross trainers are widely used in hospital and physical therapy settings, many of your members have already used our product – an important consideration when selecting exercise equipment for your center. You can be confident that our cross trainers will benefit your members, whether they are continuing rehab or transitioning to a fitness program.
inclusive. Accessible. Effective.
At NuStep, our goal is to design and manufacture fitness equipment that a wide range of users can use to achieve an effective cardiovascular and strength training workout.